Madeira Events News
Useful Information
After February 2010 floods now Madeira is being fustier by fires... It all started on the 13th of August at 3:00 am in the exotic forests of pines, eucalyptus and acacias but with the strong winds it spread for areas that had been reforested in the last 10 years with native forest...
Houses were threatened all the time but fortunately lives and homes have been saved. We only have to regret some cattle which was lost on these fires.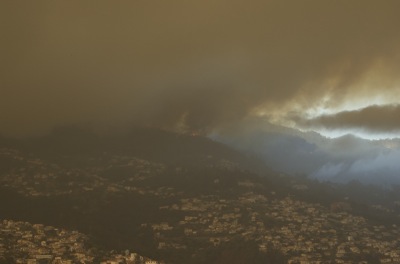 Most of these fires are facing south so Funchal has been covered by a big smoke and ash cloud. Authorities are asking people not go for the mountains so that the firemen can work properly. If you are visiting Madeira these days, so far the tips of the island (east and west) are safe and easy to reach so take the next 2 or 3 days to go there and avoid any danger. Other places where it is safe to visit are Porto Moniz, São Vicente, Ponta Delgada with a big festivity today (14th August 2010), Santana coast and Machico.
Laurel Forest is safe as it is a very humid forest and not easy to burn but it is better to avoid it these days as it can be a passage for firemen to go combat fires.
No go places on the next 2 or 3 days: Camacha, Pico do Areeiro, Pico Ruivo, Curral das Freiras, Eira do Serrado, Monte, Ecological Park of Funchal, Terreiro da Luta... Mostly, do not go to the mountains as winds are blowing at 90km/hour.