January is one of the coldest months in Madeira. The day average temperature is 18.6 Celsius and at night the temperature is about 13.3 Celsius.
Usually there are 4.7 hours of sun. The rainy days are approximately 12 and sea water temperature is about 20 Celsius.
Which clothes should I take?
January is definitely the coldest month in Madeira. Not only the temperatures are low as the humidity is high so it really feels cold even if we do not usually get less than 13ºC. Do bring your warm clothes and rain coat though it is also wise to bring a bathing suit as sometimes weather likes to plays some tricks.
Be aware that sometimes it snows on the higher mountains of Madeira Island, usually above 1000 meters of altitude.
Recommended things to do...
Discover the beautifull West of Madeira with Madeira Wind Birds renowned nature guides.
Join a group singing to Epiphany and visiting friends and family's homes, tasting the famous Bolo-Rei (King's Cake), all around the island you will be welcome.
Number of rainy days in January during the last 5 years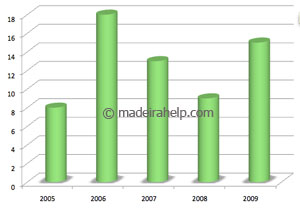 Data collected on the Southeast Coast of Madeira Island
Maximum and minimum temperatures in January during the last 5 years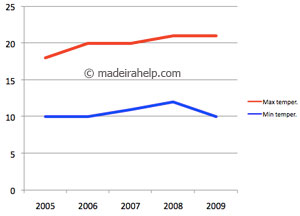 Data collected on the Southeast Coast of Madeira Island
Daily mean temperature in January for the last 3 years
Data collected on the Southeast Coast of Madeira Island
Weather by month
January
,
February
,
March
,
April
,
May
,
June
,
July
,
August
,
September
,
October
,
November
,
December